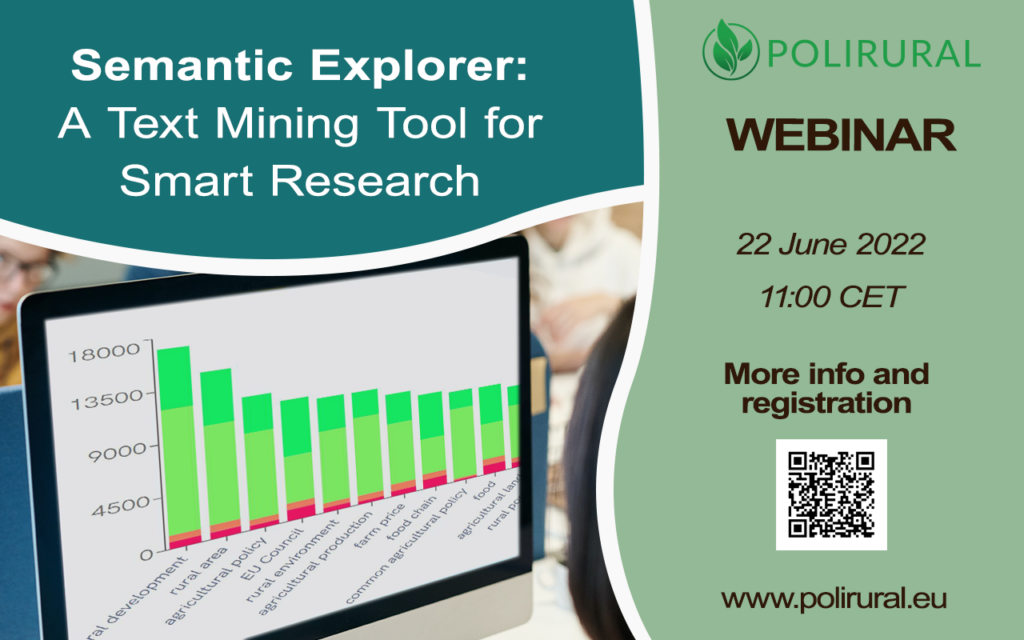 Topic:
Semantic Explorer, or Semex, is a powerful text analytics tool that works with structured and unstructured data sources to provide insights to policy makers, researchers, foresight practitioners and others who need to make informed decisions while working with large amounts of information under time constraints. A typical foresight workshop, for example, requires a lot of research to prepare briefing notes, background papers, and lists of different kinds e.g. curated reading lists (CRL) with references. In PoliRural, Semex was used to improve the quality of this preparatory work and the productivity of those responsible for its execution. For example, Semex users can find out what the article, оr a CRL, is about by looking at the system-generated summary, geo-location, keyword frequencies, and sentiment scores associated with different paragraphs and topics – all without having to read the whole thing end to end. This workshop will explain how Semex was built, how it works, as well as its current and future potential based on the experience of some PoliRural pilot regions. The event will feature an interactive session to allow participants to ask questions and/or respond to any of the points mentioned in the presentations.
Time:
Jun 22, 2022 11:00 AM in Brussels
Registration:
https://us02web.zoom.us/webinar/register/WN_Dwu7Lf76S3-7uJnLvoU65w
Speakers
Denis Kolokol Data Scientist and Developer @KAJO Denis Kolokol graduated in 2000 from Zaporizhzhya Technical State University (Ukraine), with a MS degree in Computer Science and Management Systems, and since then has been busy developing systems of all scales in many international teams. His roles varied from tech designer and software / database engineer to data scientist and researcher. For the last several years he has been mainly focused on the development of intelligent web-services and APIs with streaming data from social resources, natural text processing and big data analysis. Prefers to work on the projects with "open data" philosophy or related to science and/or education. Particularly interested in ML applications to text processing, as well as and computer vision, statistics, and physics. His area of expertise includes languages and frameworks such as Python, SuperCollider, Django, RESTful API, Elasticsearch, Mongodb, PostgreSQL, Docker, etc.
Tuula Löytty CEO @Smart & Lean Hub Tuula has contributed to Häme (FI) region's research, development and innovation actions for 18 years. The interventions have been addressed to value chain improvements through case studies, experiments, and capacity building. The typical target field has been the manufacturing industry and working adults.