FINAL REPORT ON CHALLENGE #16: 
Analysis, processing and standardization of data from agriculture machinery for easier utilization by farmers
Name of mentor(s): Pavel Gnip
Number of participants: 3
FINAL REPORT_Challenge_16 [PDF,1,4MB]
INTRODUCTION
Background of the challenge

 
Agricultural machinery significantly influences the economic profitability of crop management.  How to operate machinery on the field and achieve the best result in farming business? Data collection from running machine in time and location or Mateo sensor on the field can be one of basic controlling for farmers. 
From a technical point of view the monitoring system involves tracking of the vehicles position using GPS combined with acquisition of information from on-board terminal or field sensors (CAN-BUS, ISOBUS) and their online or offline transfer to GIS environment in ISO XML format.
Full explanation of the challenge defining the scope of the effort.
Visuals tracking the machinery fleet

which allows localization of farm vehicles in real time. This information provides an overview of current operations of machines and is crucial for the planning of field work and an evaluation of machines usage in time.

 
Evaluation of economic efficiency

of the crop management treatments within the fields. A prerequisite is the identification of fields and tractor equipment for the accurate estimation of field job costs based on the fuel consumption and used and working time.

Evaluation of machinery passes on the soil environment

. This includes detailed analysis of the tractor trajectories within the fields considering the site specific conditions. The aim is to estimate the negative effect of machine tracks on the soil environment (especially soil compaction) and compliance of agro-environmental limits (nitrates directive, GAEC, protection of water resources, other protected area etc.)

Open for future update local changes
METHODOLOGY
The methodology of the report contains the sections that describe the progress and results achieved for the entire challenge.
Team description + info about any coordination with other organizations, outside agencies 

Tech-based companies/experts, dealers, 

Network partners: Zemedelsky svaz, Agrarni komora, SmartAgriHubs

Business support partners – test farm

Technical Background 
Web application collected data and upload via USB disk or GSM net. Data modem on tractor terminal, ISO BUS technology between tractor terminal and implement management box.
Description of the process of solution
Verification of the data collection were done at medium-sized farm, where it was serve for an evaluation of tractors work during operation such as soil tillage, fertilization, sowing and application of nutrients and chemicals for crop protection. 
Similar monitoring of Meteo data was tested at the enterprise which is offering services for farmers for assessing the quality of work for customers.
Verification, data controlling and visualization was in first step.
Control of requirement for field operations:
Control of pass-to-pass errors and overlaps, coverage of maintained area and recommended work speed

Control of applied input material in comparison to prescribed rates

On line monitoring of weeds

On line monitoring of weather
Agronomic Data 
Tractor and Implement data 

Booms Set point Application Rate (liters/hectares)

Actual Application Rate (liters/hectares) 

Total Volume (liters)

Total Area (hectares)

Implement 

Booms Active Route (kilometers)

Inactive Route (kilometers)

Active Working Time (hours) 

Inactive Working Time (hours) 
Tractor – Board Computer 

Total Area (hectares) 

Total area per Time (hectares/hours) 

Active Route (kilometers)

Inactive Route (kilometers)

Active Working Time (hours)

Inactive Working Time (hours)

Total Fuel Consumption (liters)

Actual field consumption in working time (liters/hectares)

Detailed implementation plan
Final application must be fitted to farm management system in the farmer-user well known area by follow:
One-to-one: Direct contacts (Testimonials/References)

One-to-many (product presentation)

Fairs and exhibitions (Tech Agro Brno, Země živitelka, Den zemědělce, Agrokomplex)

Joint channels with third parties (e.g. dealers – incl. Open days)

Presentation in social media, online (Testimonials/References/success stories)

Analysis of needs of stakeholder groups
General request of cost calculation in crop production is focus on farmer's needs. Every other group as is advisory, service, IT support, machinery dealer is following farmers needs and technology development.
Precision farming: Savings on costs 10-15%
Digital field boundary database created

Decrease fuel consumption, 

Saving on entering costs (seeds, fertilizers, chemicals)

More efficient machines and operator's workload (standardization of field work in day/night, good or worth weather conditions) 

High standard of control of performed treatments (field data collected by machine available for analysis, reports and management decision available in very short time after task is done)

Environmental effects such as reducing the risk of deterioration of soil physical properties, saving protected areas.
FINDINGS & CONCLUSION 
Discussion of the results and findings
Practical machine field report is automatic data collection monitoring a field work task. This data can help a farmer to summarize costs on the field separately from farm overhead cost. Farmer has on the hand a precise costs and proves when, where how was application done, what product was applied.  
 Picture 1. Field data monitoring, points of data collection.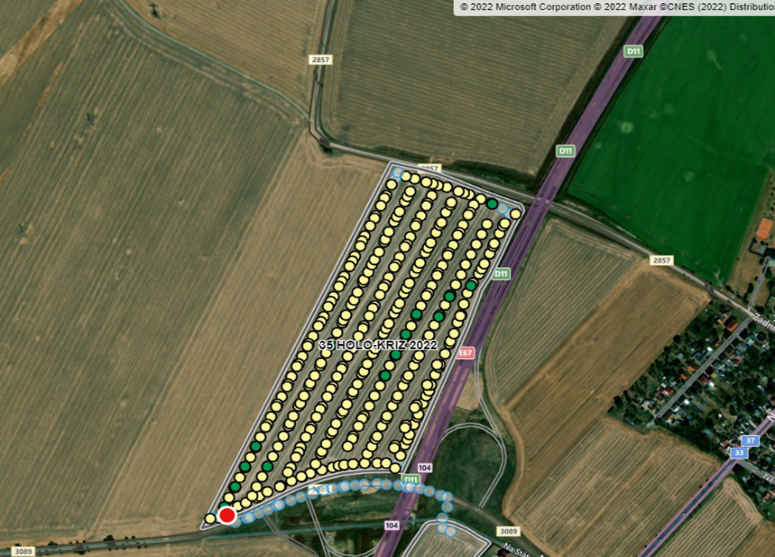 Picture 2. Field report exported for farmers use and next analysis.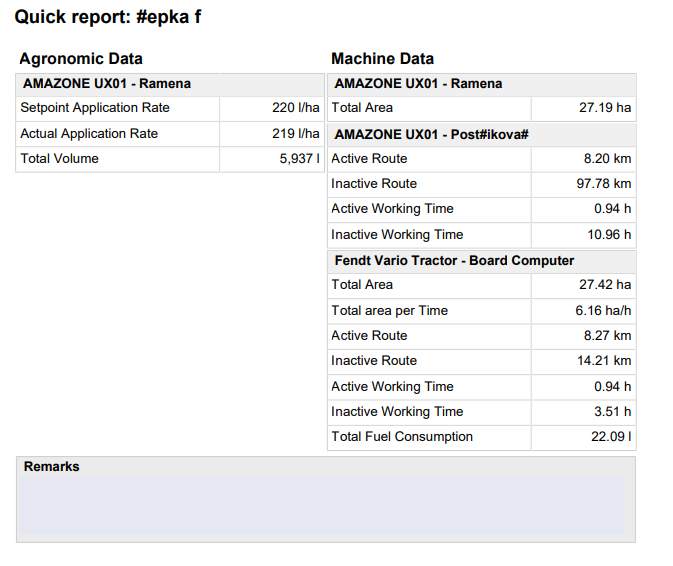 Verification, data controlling and visualization was first step, next step will analyze data with focus on:
Evaluation of the economic efficiency of machinery operations within the fields – farm

Precise records of crop management treatments

Management of machinery operations – increasing the efficiency of planning of crop management

Control of requirement for field operations:

Control of pass-to-pass errors and overlaps, coverage of maintained area and recommended work speed

Control of applied input material in comparison to prescribed rates

On line monitoring of weeds

On line monitoring of weather