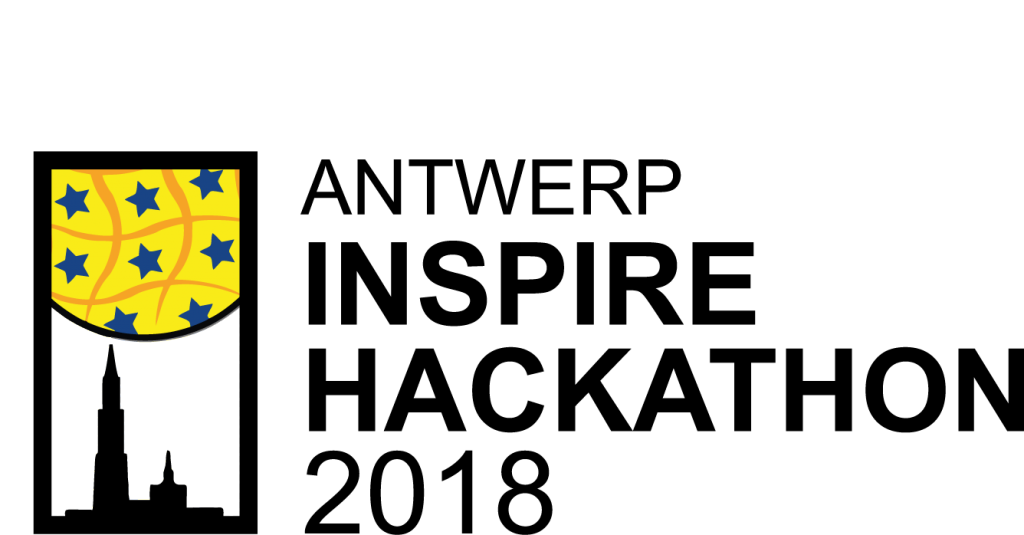 This is the third year of the INSPIRE Hackathon organised in the frame of the INSPIRE Conference, 18-21 September 2018 in Antwerp, Belgium.
The INSPIRE Hackathon 2018 is in line with the motto of the INSPIRE Conference – "Make it work together". Collaboration and sharing experience in the domain of spatial data and services and linking these to other domains is the main objective of the INSPIRE hackathon.

THEME
The main theme of the INSPIRE Hackathon 2018 is to easily integrate INSPIRE, GEOSS, COPERNICUS data with data from other domains using web APIs, and create value added applications.
The target domains include:
Agriculture and sustainable bioeconomy
Transport applications for policy making
Planning
Environmental protection
Internet of Things
Security
Weather
Biodiversity
APIs
An overview of available APIs is accessible on this page. Please help us to extend the list by submitting other API sources.
RESULTS
The jury members including Esther Huyer (Consultant at Capgemini Consulting), Anca Popescu (RTDI Project Officer at European Union Satellite Centre), Lorenzino Vaccari (Senior researcher at the JRC Ispra) and Bart De Lathouwer (Open Geospatial Consoritum) announced the following winners of the INSPIRE Hackathon 2018:
1st place – TEAM 12: Delimiting of agro-climatic zones, Karel Jedlička (WRLS), Pavel Hájek (UWB/Plan4all), Karl Gutbrodt (Meteoblue), Marcela Doubková, Apurva Kochar (PESSL)
2nd place – TEAM 13: Arctic Geodata and Fishery Statistics, Torill Hamre (NERSC), Bente Lilja Bye (BLB), Markus Fiebig (NILU), Arnfinn Morvik (IMR), Per Gunnar Auran, Bård Johan Hansen, Ståle Walderhaug, Arne Jørgen
Berre (SINTEF), Jovanka Guliscoska (Viderum)
3rd place – TEAM 10: Location intelligence from multi-variate spatial analysis, Stein Runar Bergheim (AVINET), Karel Charvat, Petr Uhlir (CCSS), Raitis Berzins (BOSC), Dmitrij Kozuk (CCSS), Milan Kalas (KAJO)
The special prize on security of 1000 EUR was awarded to the team number 14:
Analytical Map of Incidents Registered by the Municipal Police in Plzeň, Czechia
Team members: Jiří Bouchal, Alvaro Silva, Jan Ježek and František Kolovský (InnoConnect)
The remaining team presentations can be found at the following links:
PARTICIPATION & REGISTRATION
The first phase of the INSPIRE Hackathon 2018 starts before the INSPIRE Conference with creating teams that will work on certain projects. You can create your own team with people you know or people you've worked with before. Or you can can explore the existing ideas and teams that have been already created and you can simply join them. In any case, you need to register in order to gain access to the shared space where building teams and design of ideas is happening.
For participation, please REGISTER HERE.
As soon as you register, you will be sent a link to the shared space for collaboration with further instructions.
All the teams will be invited to present their projects during the dedicated workshop at the INSPIRE Conference. For this reason, teams will be asked to prepare a presentation showing their hackathon project results. The details including the timing for the presentation will be announced later on.
EVALUATION
Each team will be evaluated by the jury based on the following criteria:
INSPIRE, COPERNICUS and GEOSS relevance
Easy access to data and services via APIs
Innovation
Environmental/societal value
Cross sectoral interoperability
Cross boundary interoperability
AWARDS
The best three projects will be selected by the jury that will be formed during August 2017 and the winning teams will be awarded. This includes
USB sticks branded by the INSPIRE Hackathon,
presenting their projects during the INSPIRE Conference 2018 session "Make It Work Together" in Practice on 21st September 2018, 11am, Room A.
a live broadcast on social media,
an interview (video/audio) with the winning team that they can use freely and that will be published in specified channels.
A SPECIAL PRIZE ON SECURITY
A special prize in the value of 1000 EUR will be awarded to a team that will address in the best possible way the topic of Security, considering aspects related to the security of citizens and countries as the ones addressed in the framework of the NextGEOSS and EVER-EST projects (details are given in the Organisers & Supporters section below). In the scope of this prize, security doesn't include security of data and information from the ICT point of view.
CONTACT
For any inquiries please contact us at inspire-hackathon@plan4all.eu.
IMPORTANT DATES
| | |
| --- | --- |
| 22th June 2018 | Start of the INSPIRE Hackathon 2018 – registration opens |
| 25th June – 14th September 2018 | Building teams and working on hackathon projects |
| 18th – 19th July 2018 | Series of webinars introducing different APIs and other resources. Details will be posted on social media. |
| 27th – 31st August 2018 | Series of webinars introducing different APIs and other resources. Details will be posted on social media. |
| 17th September 2018 | Delivery of the presentations for the INSPIRE Conference workshop |
| 19th September 2018 | 1.5 hour workshop for presenting the hackathon results at the INSPIRE Conference (2pm in Room F), award ceremony, participation of all teams is strongly encouraged |
ORGANISERS & SUPPORTERS
The INSPIRE Hackathon 2018 is organised by the following projects and initiatives:
Plan4all (https://www.plan4all.eu/) – Plan4all is the main organiser of the INSPIRE Hackathon. Plan4all is a non-profit association sustaining and further enhancing the results of multiple research and innovation projects. It aggregates large open datasets related to planning activities in different specialisms areas transport, spatial and city planning, environment and tourism. Plan4all makes sure that open data are easily accessible for reuse, data are maintained and their quality is improved.
DataBio (http://databio.eu/) – The data intensive target sector selected for the DataBio project is the Data-Driven Bioeconomy, focusing in production of best possible raw materials from agriculture, forestry and fishery/aquaculture for the bioeconomy industry to produce food, energy and biomaterials taking into account also various responsibility and sustainability issues. DataBio proposes to deploy a state of the art, big data platform "on top of the existing partners" infrastructure and solutions – the Big DATABIO Platform. The work will be continuous cooperation of experts from end user and technology provider companies, from bioeconomy and technology research institutes, and of other partners. In the pilots also associated partners and other stakeholders will be actively involved. The selected pilots and concepts will be transformed to pilot implementations utilizing co-innovative methods and tools where the bioeconomy sector end user experts and other stakeholders will give input to the user and sector domain understanding for the requirements specifications for ICT, Big Data and Earth Observation experts and for other solution providers in the consortium.
NextGEOSS (http://nextgeoss.eu/) –  The NextGEOSS project, a European contribution to GEOSS (Global Earth Observation System of Systems), is developing the next generation centralised European data hub and cloud platform for Earth Observation data, where the users can connect to access data and deploy Earth observation based applications. The concept revolves around providing the data and resources to the user communities, together with cloud resources, seamlessly connected to provide an integrated ecosystem for supporting applications. A central component of NextGEOSS is the strong emphasis put on engaging the communities of providers and users, and bridging the space in between.
In the context of NextGEOSS, amongst the partners implementing innovation pilots, the European Union Satellite Centre (SatCen) is focusing on the Space and Security domain. Based on the user community needs collected also in the frame of the GEO Space and Security Community Activity, SatCen is centring the pilot concept around the identification of relevant changes on selected areas of interest, harnessing the cloud computing capabilities provided by NextGEOSS and exploiting Copernicus data discovered via the NextGEOSS data hub. SatCen's participation in the NextGEOSS project builds on the results coming from the EVER-EST project, thus ensuring their long-term exploitation.
Therefore, we invite the participants at the hackathon to propose and define innovative Open APIs, share best practices and implementation that will:

Promote extensive use of multiple GEOSS data to create applications in the Space and Security domain;
Stimulate the identification of new value propositions for EO data, coming from inherent data characteristics and /or combinations with other open geospatial information.

PoliVisu (http://polivisu.eu) – PoliVisu is a Research and Innovation project designed to evolve the traditional public policy making cycle using big data. The aim is to enhance an open set of digital tools to leverage data to help public sector decision-making become more democratic by (a) experimenting with different policy options through impact visualisation and (b) using the resulting visualisations to engage and harness the collective intelligence of policy stakeholders for collaborative solution development. Working with three cities to address societal problems linked to smart mobility and urban planning, the intention is to enable public administrations to respond to urban challenges by enriching the policy making process with opportunities for policy experimentation at three different steps of the policy cycle (policy design, policy implementation, and policy evaluation). Experimentation of policy options will enable the cities to tackle complex, systemic policy problems that require innovative thinking to develop transformative solutions.
EUXDAT – (http://www.euxdat.eu)  proposes an e-Infrastructure, which addresses agriculture, land monitoring and energy efficiency for a sustainable development, as a way to support planning policies. In order to do so, we need to address the problems related to the current and future huge amount of heterogeneous data to be managed and processed. EUXDAT builds on existing mature components for solving them, by providing an advanced frontend, where users will develop applications on top of an infrastructure based on HPC and Cloud. The frontend provides monitoring information, visualization, different parallelized data analytic tools and enhanced data and processes catalogues, enabling Large Data Analytics-as-a-Service. EUXDAT will include a large set of data connectors (UAVs, Copernicus, field sensors, etc.), for scalable analytics. As for the brokering infrastructure, EUXDAT aims at optimizing data and resources usage. In addition to a mechanism for supporting data management linked to data quality evaluation, EUXDAT proposes a way to orchestrate tasks execution, identifying whether the best target is a HPC center or a Cloud provider. It will use monitoring and profiling information for taking decisions based on trade-offs related to cost, data constraints, efficiency and resources availability. During the project, EUXDAT will be in contact with scientific communities, in order to identify new trends and datasets, for guiding the evolution of the e-Infrastructure. The final result of the project will be and integrated e-Infrastructure which will encourage end users to create new applications for sustainable development.
APIs4DGov – Digital Government APIs. The road to value-added Open API-driven services (https://ec.europa.eu/digital-single-market/en/news/new-study-digital-government-apis-apis4dgov-project) . European Commission's DG CONNECT together with the Joint Research Centre (JRC) launched a study with the purpose to gain further understanding of the current use of APIs in digital government and their added value for public services. This study reflects the European Commission interest to look carefully at innovative ways to improve interconnectivity of public services and reusability of public sector data, including dynamic data in real-time, safeguarding the data protection and privacy legislation in place. In particular the study will: (i) assess digital government APIs landscape and opportunities to support the digital transformation of public sector; (ii)  identify the added value for society and public administrations of digital government APIs (key enablers, drivers, barriers, potential risks and mitigates) and (iii) define a basic Digital Government API EU framework and the next steps. Moreover, it will contribute to the implementation of the: (i) EU eGovernment Action Plan 2016-2020,including its once only principle; (ii) European Interoperability Framework; (iii)  Building Block approach adopted in the CEF telecom programme. In addition, it will complement the studies on: "Collaborative production in eGovernment ", "Towards faster implementation and uptake of open government"; "Analysis of the value of new generation of eGovernment services". The study  aims to be participatory and benefit from work performed in European public administrations at all levels. Therefore we invite the participants at the hackathon to share API best practices and implementation by showing, in particular, cross-sector and cross-boundary API case examples in any relevant policy domain, such the ones highlighted by the INSPIRE hackathon.
European Data Portal (https://www.europeandataportal.eu) – The European Data Portal harvests the metadata of public sector Information available on public data portals across European countries. Information regarding the provision of data and the benefits of reusing data is also included. Going beyond the harvesting of metadata, the strategic objective of the European Data Portal is to improve accessibility and increase the value of Open Data:

Accessibility: How to access this information? Where to find it? How to make it available in the first place? In domains, across domains, across countries? In what language?
Value: For what purpose and what economic gain? Societal gain? Democratic gain? In what format? What is the critical mass?
EU Open Data Portal (http://data.europa.eu/euodp/en/home) – The European Union Open Data Portal (EU ODP) gives you access to open data published by EU institutions and bodies. All the data you can find via this catalogue are free to use and reuse for commercial or non-commercial purposes.
Global Open Data for Agriculture and Nutrition – GODAN (http://www.godan.info/) – GODAN supports the proactive sharing of open data to make information about agriculture and nutrition available, accessible and usable to deal with the urgent challenge of ensuring world food security. It is a rapidly growing group, currently with over 748 partners from national governments, non-governmental, international and private sector organisations. The initiative focuses on building high-level support among governments, policymakers, international organizations and business. GODAN promotes collaboration to harness the growing volume of data generated by new technologies to solve long-standing problems and to benefit farmers and the health of consumers. We encourage collaboration and cooperation between stakeholders in the sector.
European Virtual Environment for Research – Earth Science Themes – EVER-EST (https://ever-est.eu/) – The EVER-EST project (2015-2018) is creating a state of the art Virtual Research Environment (VRE) focused on Earth Sciences. Building on existing e-infrastructures, the project is developing new functionalities (e.g. Research Objects) to meet the needs of four Virtual Research Communities (VRCs). Earth Science deals with several key challenges that require inter-disciplinary problem solving and large data sharing across diverse geographic locations and disciplines. Climate change research, ensuring secure and sustainable availability of natural resources and understanding natural hazards are some of the challenges addressed by the different VRCs.
In the frame of the EVER-EST project, the European Union Satellite Centre (SatCen) leads the Land Monitoring VRC and is implementing a use case related to Land Monitoring for Secure Societies (based on Copernicus data) to test the EVER-EST functionalities and infrastructure. Of particular interest is advancing the current capabilities for exploitation of open geospatial data and new approaches to data integration (EO and non-EO) to obtain value-added products (e.g. going beyond change detection).
Therefore, we invite the participants at the hackathon to propose and define innovative Open APIs, share best practices and implementation that will:

Promote extensive use of multiple GEOSS data to create applications in the Space and Security domain;
Stimulate the identification of new value propositions for EO data, coming from inherent data characteristics and /or combinations with other open geospatial information.