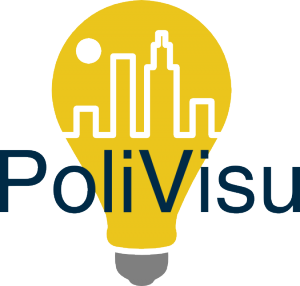 Title: Policy Development based on Advanced Geospatial Data Analytics and Visualisation
Call identifier: H2020-SC6-CO-CREATION-2017
Topic: CO-CREATION-06-2017
Grant agreement no. 769608

PoliVisu (http://polivisu.eu) – PoliVisu is a Research and Innovation project designed to evolve the traditional public policy making cycle using big data. The aim is to enhance an open set of digital tools to leverage data to help public sector decision-making become more democratic by (a) experimenting with different policy options through impact visualisation and (b) using the resulting visualisations to engage and harness the collective intelligence of policy stakeholders for collaborative solution development.
Working with three cities to address societal problems linked to smart mobility and urban planning, the intention is to enable public administrations to respond to urban challenges by enriching the policy making process with opportunities for policy experimentation at three different steps of the policy cycle (policy design, policy implementation, and policy evaluation). Experimentation of policy options will enable the cities to tackle complex, systemic policy problems that require innovative thinking to develop transformative solutions.