Plan4all became an official member of two major associations:

The first one is the Open Geospatial Consortium (OGC) – an international not for profit organization committed to making quality open standards for the global geospatial community. These standards are made through a consensus process and are freely available for anyone to use to improve sharing of the world's geospatial data. Plan4all is an associate member of OGC.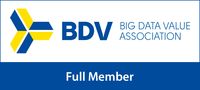 The second is the Big Data Value Association (BDVA) – an industry-driven international not–for-profit organisation developing an innovation ecosystem enabling data and AI-driven digital transformation in Europe delivering maximum economic and societal benefits and achieving and sustaining Europe's leadership on big data value creation and artificial intelligence. Plan4all is a full member of the BDVA.
The nature of the Plan4all association suggests that Plan4all will contribute to both organisations with capacity building, transfer of knowledge from research into practice and will help with development and adoption of international standards in the big data and geospatial domains.