The Kampala INSPIRE hackathon that started in March concluded with online event Wednesday 6th May. Participants representing all teams joined to share their final results and to celebrate their achievements in an awards ceremony. During this 3 hours long event, we learned about the results achieved by 10 teams who have addressed the 10 challenges covering agriculture, food security, desert locust, citizen science, traffic and more. The Kampala INSPIRE hackathon gathered more than 200 registered hackers. Despite the unexpected barriers created by COVID-19, the interest of African agriculture researchers, practitioners and stakeholders at large was prominent.  
The hackers represented 42 countries world wide:  Africa 20 countries (77 % of registrants), Europe 12 countries (12 % of registrants) and 11 other countries (11 % of registrants).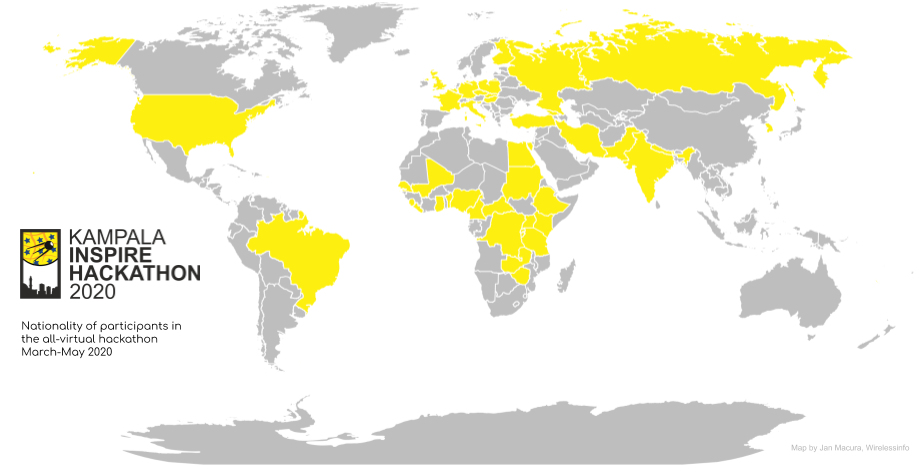 Throughout the whole hackathon, all teams and mentors did an excellent job and the jury had a very difficult task to select top three teams out of the ten.  
In the end, the jury members Suchith Anand (Chief Scientist, GODAN), Lydia Mazzi Keyondo (Head of Department, University of Makerere) and Ian Jarvis (Agriculture and GEOGLAM, GEO) announced the following winners of the Kampala INSPIRE Hackathon:
1st place:

Challenge 4 Desert Locust /

Winnie Kamau (Kenya), Maximilien Houel (France), Elias Cherenet (Ethiopia), Terefe Sodango (Ethiopia), Jecinta Wawira Muriithi (Kenya), Reagan Otukene (Uganda), Nyakato Irene (Uganda), Zakayo Kimuge (Kenya), Ambrose Kamya (Uganda) , Lenah Mwangi (Kenya), Ahmed Mahdav (Iran)i, Miderho Christus

(Kenya)


2nd place

:

Challenge 2

SmartAfriHub

/

Tuula Löytty (Finland), Ssembajwe Ronald (Uganda), Simon Van Kerckhove (Belgium), Samuel Njogo (Kenya),  Antoine Kantiza (Burundi), Akaninyene Obot (Nigeria),  Felix Kimani Kariuki (Kenya), Esther Wanjiku Maina (Kenya), NGUEfACK jovis Arnold (Cameroon), MEZAFACK Karol lavoine.(Cameroon), Fouagwang Yann Wilfried (Cameroon), Jesus Simal-Gandara (Spain)

3rd place:

Challenge 6 Climate Change Trends for Africa

/

Pavel Hajek (Czech Republic), Samuel Ekwacu (Uganda), Jiri Vales (Czech Republic), Karel Jedlicka (Czech Republic)
Congratulations to all the winning teams and many thanks for excellent work to all participants: hackers, mentors, and jury! 
A special thanks to the Kampala INSPIRE hackathon supporting organizations and projects!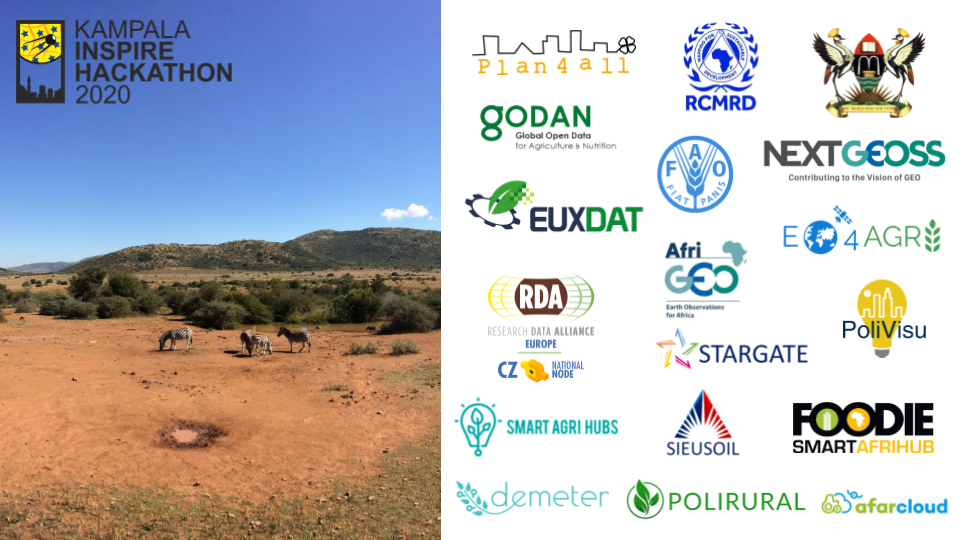 ---
The INSPIRE Hackathon is not an event, it's a process!
---
We are looking forward to see you in the next INSPIRE hackathon!