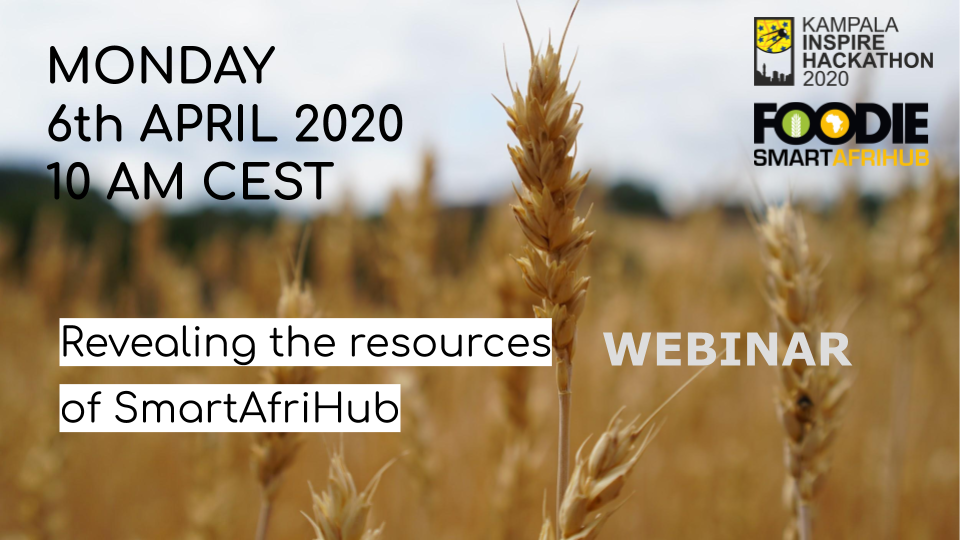 Webinar is dedicated to communicating what is the SmartAfriHub and how it is linked with the Kampala Inspire Hackathon challenge no. 2. 
The webinar is scheduled for Monday 6th April 2020, starting at 10 CET.  It will last about 30 minutes. Below you can find the overview of the webinar.
DURING THIS FREE WEBINAR YOU WILL LEARN
What is RCMRD Geoportal and Open Data Portal?
The Thematic Lead for Agriculture and Food Security, Lilian Ndungu will give an overview of the RCMRD data portals. She is working for the Regional Centre for Mapping of Resources for Development (RCMRD), https://rcmrd.org/.  Lilian will introduce the RCMRD online resources and provide insights on how the tools are bridging the gap between information accessibility and decision making.
What is SmartAfriHub?
The web-, social media- and communication expert Petr Uhlir and the admin of the SmartAfriHub gives an overview of the SmartAfriHub. Why is SmartAfriHub useful in Africa to boost community building and digital transformation?  Petr will lead you on a tour into the platform. Petr works for the Czech Centre for Science and Society, CCSS, http://www.ccss.cz/en/.
Why now?
We are building a community of smart agriculture. The SmartAfriHub provides a social space,  knowledge transfer mechanisms, innovation sources and a selection of useful and open agriculture data banks and tools.  Smart AfriHub gathers the agricultural practitioners, IT oriented experts and stakeholders to design and implement the digital transformation in Africa – together.  In addition, we are also building an Africa – EU partnership by enhancing communication, networking and sharing open resources.
Who will be the audience?
Academia & Research
Researchers and Innovators who are engaged with solution of challenges related to AI and satellite images
Farmers' associations and agricultural companies
Policy makers and authorities
Any possible participant of the Kampala Inspire Hackathon, who is considering his/her participation in this challenge or is interested in being part of the digital revolution
The on-going and planned activities at the Hackathon Challenge 2 group?
Do-It-Yourself workshops with the support of experts addressed on the following topics;
usage of the basic hub tools  – blog, forum, wiki
technical tools –  HsLayers, Layman, Open Micka, Senslog
data sources presentations  – The Global Agricultural Monitoring System,  RCMRD Geoportal and Open Data Portal
Networking, brainstorming and chatting in WhatsApp- and Skype group;
Clustering and communicating with the other 9 Inspire Hackathon challenges;
If you are interested in this topic, do not hesitate to register for this webinar
HERE!