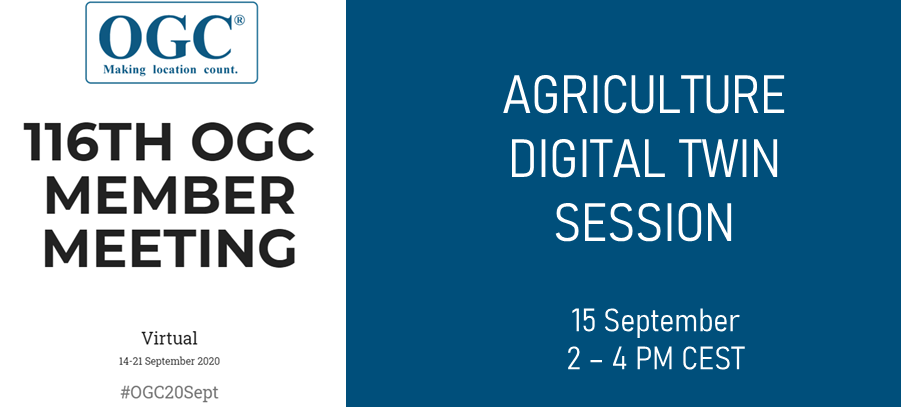 We would like to cordially invite you to join us at the upcoming Open Geospatial Technical Committee meeting organised by Agriculture DWG of OGC. The topic of this session will be Digital Twins for Agriculture. The session is scheduled on 15th of September 2020 between 14 00 CEST (8 00 EDT) and 16 00 CEST (10 00 EDT).
Karel Charvat (Plan4all) – EO4Agri White Paper

Peter Baumann (rasdaman GmbH.) – Datacubes for Optimizing Agriculture

Valantis Tsiakos (Institute of Communication & Computer Systems (ICCS) – An integrated EO-based toolbox for modernising CAP compliance monitoring and assessing respective environmental impact

Karel Jedlicka (UWB, Plan4all) – Calculation of agro-climatic factors from global climatic data

Emmanuel Mondon & Alexandre Cadain (Maxar/Anima) – Impact gaming leveraging EO (satellite, in-situ & 3D) applied to Agriculture Digital Twins

Walter Mayer (Progis) – Sustainable management of NATURE supported by time related satellite images, newest technology, local knowhow and global cooperation

Michal Kepka (BOSC) – SensLog – an interoperable solution for sensor data

Louis Cousin (Startinblox) – Inter-connecting geospatial and agricultural sectors: towards universal interoperability standards

Stefano Nativi (JRC) – Green Deal Data Space initiative and in particular the Destination Earth action

Zara Khan (Planet) – Planet designs, builds and operates the largest constellation of imaging satellites in history, delivering near-daily imagery of anywhere on Earth
You don't have to be an OGC member to attend an OGC meeting. This session is open to anyone to attend and new voices are always welcome.
Registration for the session is free for OGC members. In case you are not the OGC member and you are interested in the session, do not hesitate to contact hana.kubickova@plan4all.eu and get the 50% reduction of full week conference fee.