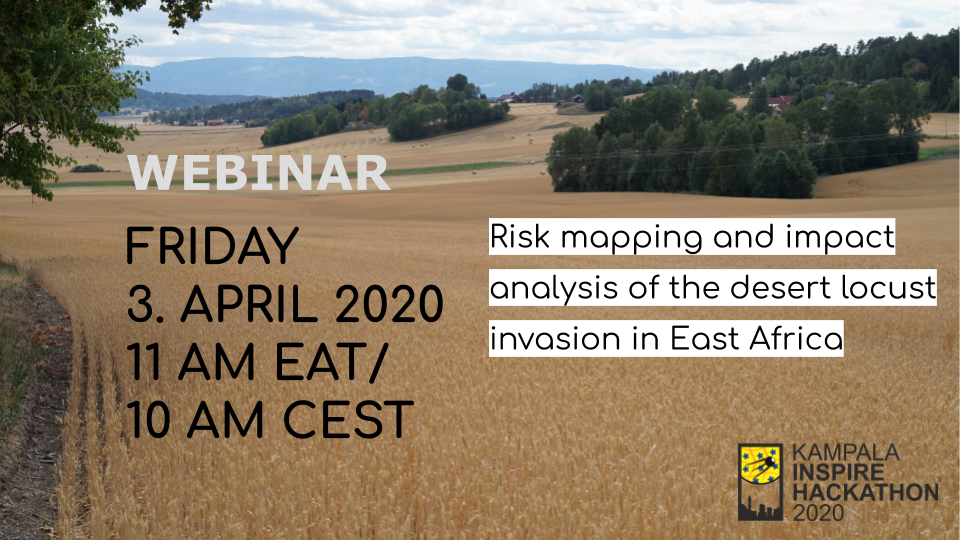 Webinar dedicated to Risk mapping and impact analysis of the desert locust invasion in East Africa is coming soon! The webinar is scheduled for Friday 3rd April 2020 and below you can find the overview and more details.
DURING THIS FREE WEBINAR YOU WILL LEARN:
Operational challenges in curbing the Locusts
Availability of data and technology to perform risk mapping and monitoring
Identifying potential areas for innovation
Impact assessment
Q&A related to the Kampala INSPIRE hackathon Challenge Desert Locust
What: This webinar is part of the series of webinars that will be conducted for the desert locust challenge. During this webinar, we will introduce the challenge, mentors and participants as well as introduce our approach for this challenge. The webinar brings together diverse groups of people including representatives from FAO who are at the heart of updating the world as well as funding different organisations in the struggle through FAO Emergencies, representatives from the Ministry of Agriculture Uganda who are at the centre of the fight locally, representatives from the Desert Locust Control Organisation for Eastern Africa (DLCO-EA) and the Regional Centre For Mapping Resource For Development (RCMRD) as well as innovators who will design appropriate solutions for this challenge through the hackathon. We shall explore the various technologies and operation tactics used by different bodies to combat the spread and breeding of locusts as well as enable our innovators to identify different areas of innovation from the lessons shared by speakers. As many countries across East Africa are battling with the challenge of desert locusts at the moment, it is important to support local initiatives through feasible innovations. Therefore, the webinar will be a stepping stone and pointer for how the Desert Locust Challenge Hackathon shall be carried out
Why: Many countries across East Africa are battling the challenge of desert locusts at the moment as they move across the region. It is therefore important to support local initiatives to monitor and control the locusts, with relevant geospatial risk maps of outbreak for the timely location of desert locust development and gregarization risk zones. It is important to come up with innovative ways for early detection of the locusts to avoid greater loss and enable quicker intervention.
Who (is the webinar for): Farmers and farmers' associations, academia and researchers, and NGO's, policy makers, governments
If you are interested in this topic, do not hesitate to register HERE!