On Tuesday 22nd October 2019, IGAD meeting focusing on IGAD/RDA Recommendations: Implementing Good Practices in Agriculture was held in Helsinki as a pre-conferrence to the RDA 14th Plenary – Data Makes the Difference.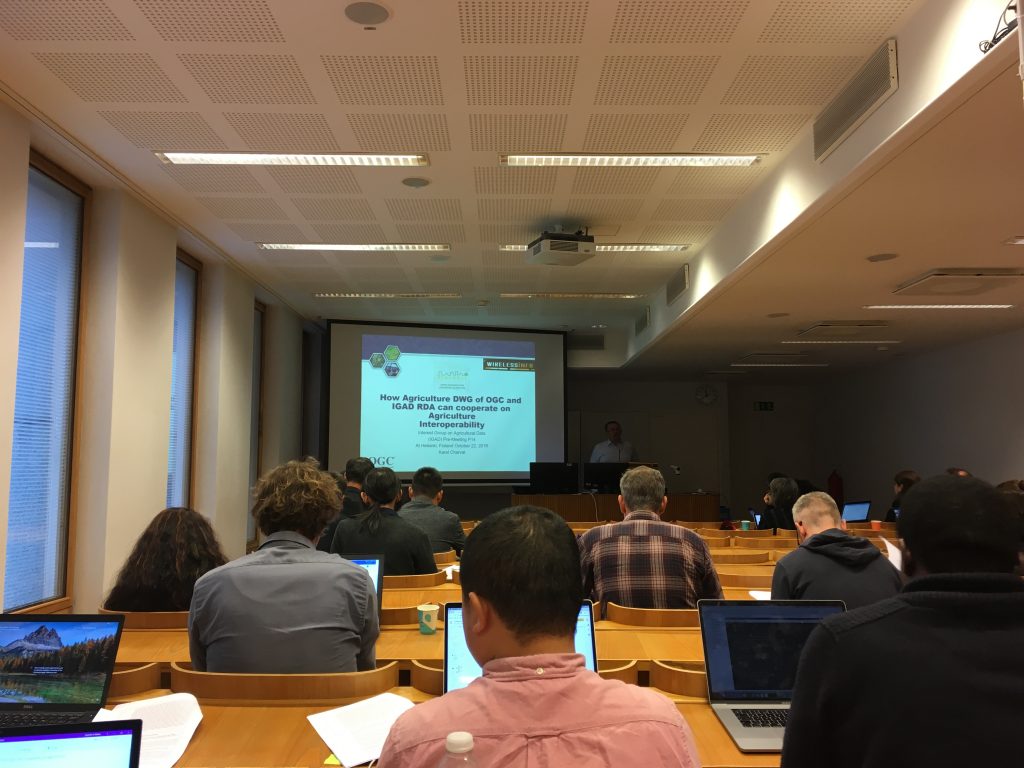 Agriculture domain experts, researchers, data managers, data mining experts, policy makers on data management in agriculture, IT specialists, software developers and many other stakeholders involved in managing data for agricultural research and innovation came together and shared their experineces. Plan4all also took part at this event and we are very pleased to give you a brief report on this meeting.
At the beginning of this meeting, there was a brainstorming exercise, where participants were asked to answer the following questions:
Who are your stakeholders?
What are the most important activities for agricultural data?
What are the top three barriers to your work?
The responses to the above questions became the cornerstone of one of the breakout sessions, which took place on Wednesday 23rd October during the RDA 14th Plenary. Based on those responses, the establishment of new possible RDA working groups on agriculture was discussed during this breakout session.
Next part of this proceeding was dedicated to presentations. There are many challenges when it comes to agricultural data, hence the presentations were divided into 4 sessions:
1) Urgent needs for agricultural data
2) Agricultural standards and semantics
3) Implementing FAIR principles
4) Changing agricultural data management culture
Mostly in developing countries, smallholder farmers are not harnessing the power of data and must overcome challenges and risks to ensure that investments benefit them. It is important that developed digital solutions are desingend to be avalabe to all farming communities to maximize their potential, especailly in countries with very low literacy level and limited knowledge of digital technologies. In the first section dedicated to a topic called Urgent need for agricultural data were presented ideas how to bridge digital divide in agriculture by bringing together various stakeholders globally.
Secondly, the big problem for data in general is a heterogenity and low level of standards usage especially for agricultural data. In fact, there is a large number of standardisation efforts. However, these efforts are usually unsynchronised among different initiatives. The problem of agricultural standards were discussed in the second part of presentation session, where Karel Charvát also contributed with an overview of how standardisation efforts of OGC and IGAD could be synchronised.
Another presentation of the second section was dedicated to introduction of recommendations produced by the  RDA Agrisemantics working group and illustration of plans for their maintenance and extension.  
In the third section dedicated to FAIR principles, there was presented a GO FAIR Food Systems Implementation Network with the purpose to support the implementation of FAIR principles in agri-food sciences, in providing guidlines, tools, methods with specific efforts towards achieving semantic interoperability.
In addition, the GLTEN Metadata Portal with the aim of establishing a collaborative international network for long-term agricultural experiments was introduced. As well as COPO was introduced as a system enabling scientists to decribe data and research objects using community-sectioned metadata and to share them with the wider scientific community. Last but not least, there was presented Grassroots Infrastructure as a part of the Wheat Information System.
The last section dealt with the topic of changing agricultural data management culture. In this section, effective open data use in agriculture and nutrition, outcomes, lessons and recommendations from GODAN action were presented.
All presentations will be available soon!